Natalie (33.5 months)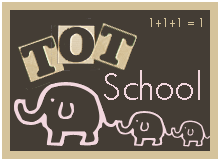 Well we started doing a little Tot School this week. I didn't have everything together to start with the letter A like I wanted to so we just started with our version of Tot Trays. I plan to actually use trays but I had to order them first. I started out calling them activities because I wasn't sure how else to explain it to an almost 3 year old. The first day she wasn't sure but once we got started she just kept asking for more activities. It was super cute. She had such a great time and didn't realize that she was learning as she was playing.
We played with her busy farm which we hadn't gotten out in a while. It's a great tool that we already had. I was so glad that we could incorporate a loved toy into our routine.
Then she loved the ABC puzzle that I picked up from the dollar store. I am planning on using it for stamps as well but she played with that puzzle a few times each day and she kept asking for it.
I found printables for a farm animal matching game (can't remember where) so I just printed that off and glued it to a folder and cut up the other copy. So easy but she loved naming the animals while matching them.
I also made a rice sensory bin. It was my first sensory bin so I just put rice in with a few tools from the kitchen. I wasn't sure how she would take it and the first time she wasn't sure what to do with it. I sat down and showed her she could just play and explore and she loved it.
This week we are starting with the letter A. I'm really excited to see all of my ideas come into play and just watch her learn so many new things.