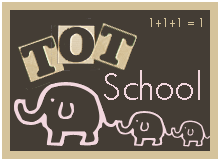 This week we learned the letter A. Natalie pretty much already knew A just because it's the first letter. I felt that it was great for her to hear words starting with A over and over and learn the sound that A makes.
We started out Monday morning with Tot Trays because we were all still sleepy so I didn't want to start with too much. This is how I have our trays set up for now because this is what works best. I leave the trays out all the time but she really only plays with them when I suggest her to. I am trying to leave the same activity all week with only making a few changes here or there. I don't want her to get bored but yet I don't want to use all my ideas in one week.
No Time For Flash Cards
This is supposed to be a magnet sheet but since I don't have the magnets yet I let her paint it. She had such a good time and I thought it was cute how she did each section a different color.
No Time For Flash Cards
to make a wreath with the prints as a fall decoration. Since fall is fast approaching I loved this idea. Natalie had such a great time gluing the apples onto the plate that she was sad when she ran out of apples. We even made an extra for grandma because we know grandma's love these kinds of "gifts".
We also did lots of do a dots with different shapes and the letter A. She had a great time with her letter A traceables though she would get bored of it pretty quickly, instead of having her try to do even a whole row I would ask her to do 2 letters in between activities and that worked out really well.
We had such a great week I'm so excited to start on the letter B tomorrow, partially since our last name starts with a B! Have a great week everyone!