I am a cloth diaper mama. With that comes some challenges that you may have to overcome. My diapers were stinky. I had tried everything and in my quest to find a solution I found
Yoreganics Soap Nuts
. Boy am I glad I did! Haven't ever heard of Soap Nuts? Here is a little description from their site:
LAUNDRY BY MOTHER NATURE
SOAP NUTS fall from the Soapberry tree (Sapindus mukorossi) found in Northern India and Nepal. The outer shells of these dried fruit berries contain saponin, which creates soap when agitated in water. They effectively clean, soften and remove odors from your laundry!
Intrigued? I was too! The Soap Nuts are natural! Don't most cloth diaper users want to be more eco friendly? Soaps Nuts are sustainable and biodegradable; they are also USDA certified organic so there aren't any chemicals in them. You can read more about how to get the stink out on a review I did on Soap Nuts.
Soap Nuts are very economical running about .13 cents per load of laundry! The price is $12.99 for an 85-load bag.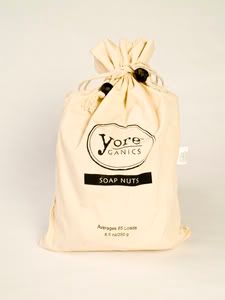 I was sent the Trio Sampler to review; it includes a trial size Soap Nuts, a 2 oz Stain Remover and a 3 oz sample of Brightens & Whitens. I was also sent one of their Organic Lip Balms to try out.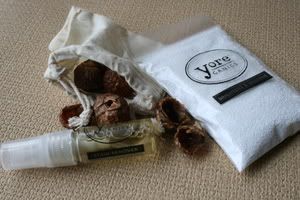 I am already a user of the Soap Nuts so I know I love those, but I was really excited to try the Lip Balm because I am an avid chapstick user. I use it multiple times a day and always know where a tube is. I am brand loyal so I wasn't sure if I would like this new stuff. I put it on as soon as the package arrived. At first it has a minty smell and feeling that is really refreshing. It lasted for so long I don't even think I reapplied it for a few hours. It has made my lips so much softer I don't need to use it every hour like I used to. I was even out once and didn't have any gum, I was talking to people and nervous that my breath was bad so I used a little Lip Balm and my lips were all minty again and I felt confident! If you are a chapstick user, I definitely recommend you give this a try!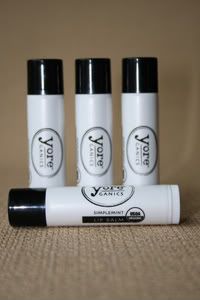 As most of you know I have a toddler, with that toddler comes many messes. In all honesty I keep a stain remover on my bathroom counter at all times. That way at night when she has any spots on her clothes I can spray it, let it sit overnight and then rinse. I was really excited to get this purse size Stain Remover from Yoreganics. Many times I can't get the stain out because we are out when it happens and by the time we get home it's dried and too late. I kept waiting for the perfect chance to give the Stain Remover the real test. Finally one morning I was sorting out Nat's laundry and I found a shirt with a stain on it. Dh had undressed her the night before for bed and never said a word. I gasped; we had lasagna the night before. There is NO way this is going to come out. I ran to the bathroom and sprayed the Stain Remover right on the stain. The bottle says to leave for a few minutes so I mentally told myself to go back after 5 min. Well I lost track of time and 5 min turned into 10. As soon as I remembered I went in the bathroom, scrubbed at the stain a little bit and rinsed it per directions. The stain came right out! An overnight lasagna stain and I assumed the shirt was ruined forever. Thanks to Yoreganics Stain Remover it was saved!
Spot Before
Spot After
Giveaway:
Kim from Yoreganics is giving away a Sampler Trio & Organic Lip Balm to one of my readers!
To enter: Visit Yoreganics and pick one of their products you would like to try. Come back here and leave a comment.
Extras:
Publically follow my blog via GFC. (1 entry)
Follow me
@Kaylynbuckner
on Twitter. (1 entry)
Follow
@Yoreganics
on Twitter. (1 entry)
Refer someone and have them mention your name. ( 5 entries)
Tweet about this contest, include @Kaylynbuckner, @Yoreganics and link back to this site or use this:" @Kaylynbuckner is giving away a Laundry Trio Sampler including Soap Nuts from @Yoreganics! http://bit.ly/az6i2K #clothdiapers #giveaway #eco " (2x per day)
Become a fan of
Yoreganics
on Facebook. (2 entries)
Blog about this giveaway (3 entries)
Make a purchase from
Yoreganics
, come back and let me know what you purchased. (10 entries)
Watch
Yoreganics Youtube Video
and either favorite it or leave a comment. (2 entries)
This giveaway will close at 9 PM Est on April 10th, 2010. One reader will be selected using random.org. They will have 48 hours to reply to an email sent to them before another winner is chosen at random.
*This was not a paid post and my honest opinion was given about the product.*